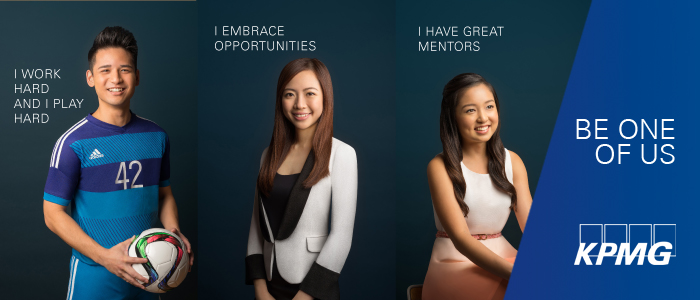 How to Apply
Our culture & values
"I was once just like you, embarking on a new life, trying to choose the right career path. Fortunately for me, I was invited to join an organisation that believes in people and recognises different individuals, looking beyond paper grades." 
-- Quek Shu Ping, Head of People, Performance & Culture (KPMG)
We recognise that every individual is different and that everyone is special in their own ways. At KPMG, we help you to grow to your fullest potential and we provide you with that extra boost needed to get you to where you want to be next.
We are looking for
Graduates who:
Have an outward-looking, people-oriented personality with great communication skills
Have an analytical mind and possess leadership qualities
Enjoys working in teams
Are driven and committed
Degree/Disciplines
We recruit graduates from all disciplines, but we particularly welcome graduates of:
Accounting
Information Technology
Finance
Business
How to apply
Interested candidates please visit our careers page @ www.kpmg.com.sg/gradconnection. If you are interested in any current job opportunities, please submit your application online. All applications will be held in strict confidence.
When to apply
Our recruitment exercise for graduates take place in two main periods of the year:
August – November (Mass hiring from local universities – Tri-University Recruitment Fair, also known as TURF)
January – May (Ad-hoc hires)
Eligibility
Possess a University degree and/or post-graduate qualification
Both Singaporeans and non-Singaporeans are welcome to apply
Position locations
Singapore
Further information
For more information on the latest happenings at KPMG, check out our Facebook page @ www.facebook.com/kpmgsgcareers.
We look forward to receiving your applications!