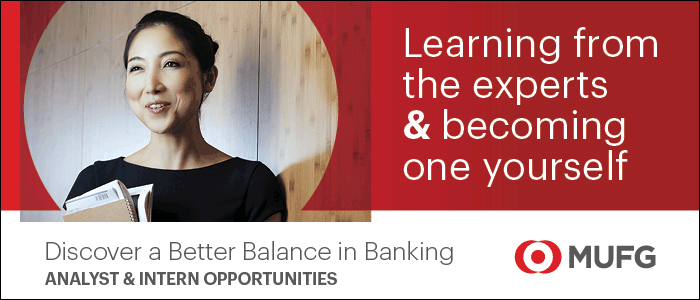 Analyst & Summer Internship Programs
Mitsubishi UFJ Securities (Singapore), Ltd
---
Analyst & Summer Internship Programs
Joining our select analyst and intern intake, you won't get lost here. You'll be involved and an integral part of the team from your first day. Senior colleagues will know who you are, and they'll see the work you do. What's more, they'll be happy to provide support and advice when you need it.
Our analyst program will see you taking on rotations to broaden your experience and skills. You'll also get to study for professional qualifications as you progress. Our internships are focused on giving you the best possible insight into our business and our industry. For many, they're also a proven route onto our analyst program.
Whichever program you join, you can expect a commitment to your development that will include:
a tailored training program that will be yours to shape
early exposure and responsibility
the opportunity to make an immediate and valuable contribution
Put simply, we'll want you to succeed. And you'll be recognized and rewarded when you do.
All applications must be made through muscampus.com.