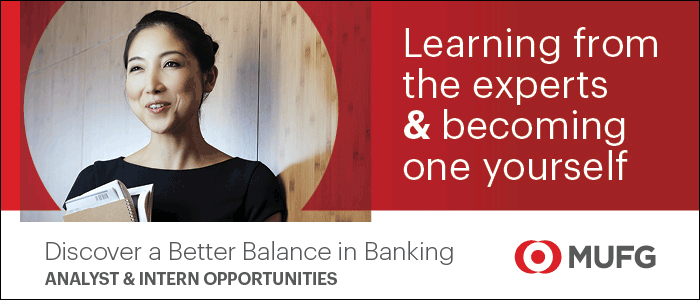 How to apply
Mitsubishi UFJ Securities (Singapore), Ltd
---
How to apply
The process outlined here applies to both our analyst and internship programs. All applications must be made through muscampus.com and unfortunately we cannot accept applications from other routes.
The process is as follows:
An online application form
This will ask you for:
Your contact details
Details of your education and work experience
Why you would like to work for us
Responses to open questions so we can get to know you a little better.
We'll also ask you to attach a copy of your CV and, if you wish to, a covering letter.
Online tests
If your application is successful, we'll ask you to complete online verbal and numerical reasoning tests. These will be emailed to you, and they're timed.
Telephone interview
Pass the tests and a telephone interview will follow. This will focus on your education, your work experience, and your understanding of Financial Services and Capital Markets. Expect some technical questions.
Assessment day
Successful interviewees will be invited to an Assessment Day featuring a mix of group exercises, networking sessions and business interviews. Shortly afterwards, we'll make offers to those who've shone. If this includes you, then this is where your journey with us really begins.