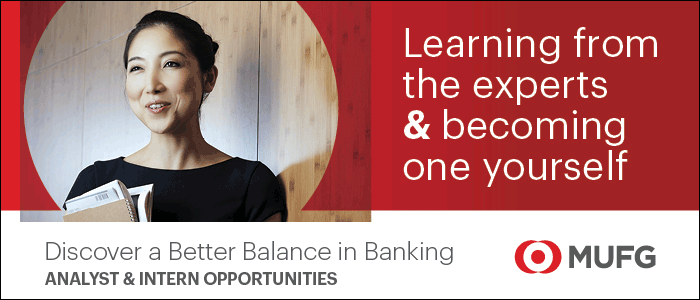 Program structure
Mitsubishi UFJ Securities (Singapore), Ltd
---
Program structure
Both our analyst and internship programs are designed with your progress in mind. They'll open up our business to you – giving you a broad insight into everything we do, and helping you develop the skills and experience you'll need to make a telling contribution.
Expect exposure to the services that we provide to clients around the world. Each will present you with distinct challenges – and unique opportunities.
Capital Markets Group
Fixed Income
Structured Products
Equities
Analyst training
For our analysts, it starts with a four-week induction in our London office. Here you'll meet the rest of our global intake and get an overview of our business. Then you'll come back and set out on a program that combines classroom training and live projects. You'll get to study for professional qualifications. And you'll benefit from tailored training programs that will be yours to drive.
Internship training
The internship starts with a week's technical training to develop your understanding of our markets and our products. Then you'll experience what it's like to work in global investment banking – completing rotations in a range of departments, and finding where you want to develop in the future. There will be training and support throughout, balanced with plenty of social and networking events.
The benefits
Whichever program you join, you'll find an open and inclusive environment, great opportunities to broaden your experience, and colleagues who will be happy to help you progress. It's all part of our better balance in banking.
All applications must be made through muscampus.com.